March 24-26, 2023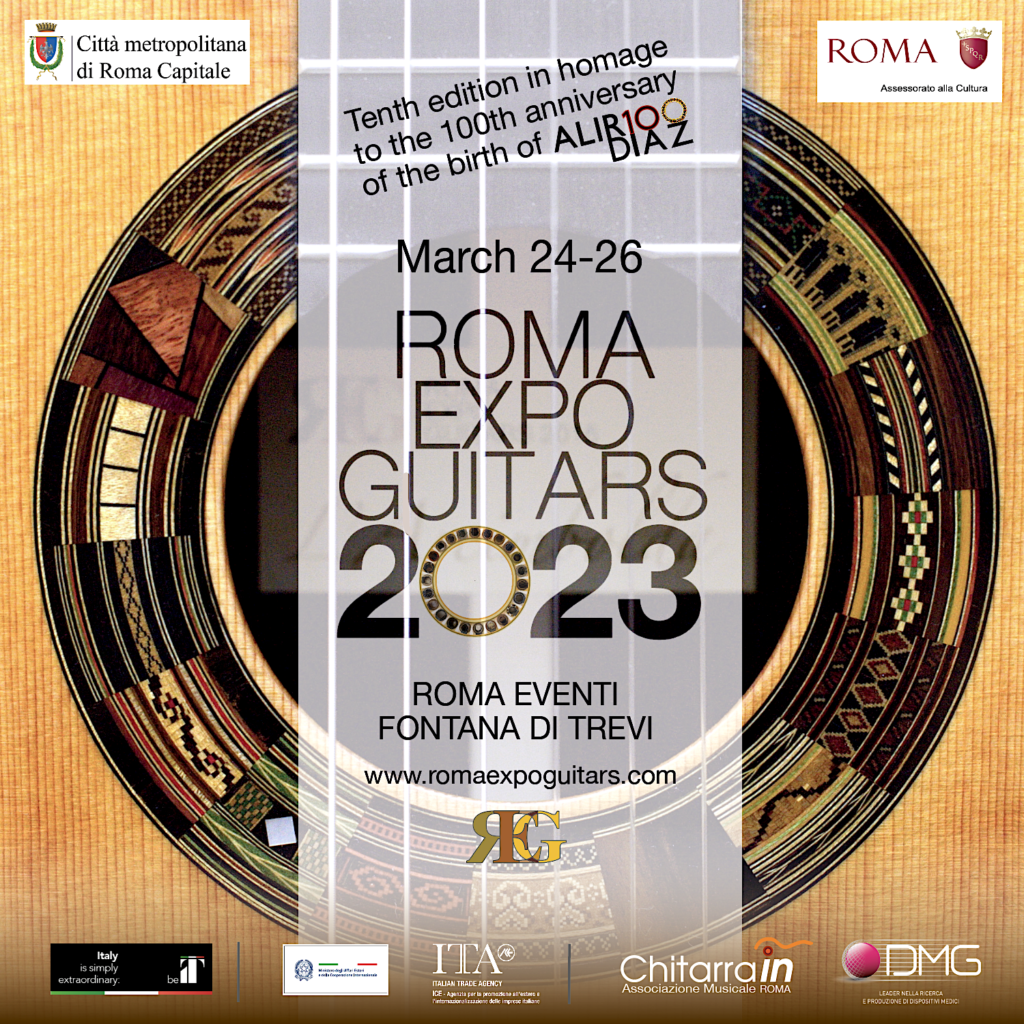 The entrance ticket can be purchased directly at the venue with no availability limits
Friday 24, Saturday 25 and Sunday 26, March 2023 Roma Expo Guitars now in its X edition!
This event, created by the Chitarra In Association, is totally dedicated to the classical guitar world and its wonderful instruments.
Our mission is to further attract international attention on the Exhibition and promote Italian guitar-making in general.
We are willing to make this event a permanent reference point, competitive and prestigious in the area of guitar-making and visible throughout the World.
The top classic guitar lutherie in the heart of Rome!

Why come to Rome Expo Guitars?

The best of Italian guitar makers and Companies
Best value for money
Comparative acoustic testing of the instruments
10 soundproof rehearsal rooms
Important guests
Concerts
Conferences
Awards
———————————-
---
EXPOSITORS 2023
———————————————–
---
EVENTS PROGRAM
(in cronological order)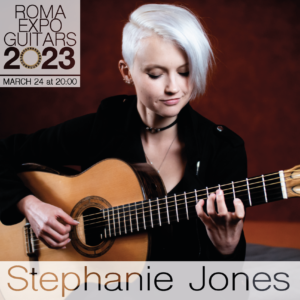 Stephanie Jones in concert
Friday 24 March at 8 pm

event not included in the entrance card – buy the ticket here: https://eventi.chitarrain.com
Saturday 25 March at 2.30 pm
(event included in the entrance card – subject to availability)
Presentation of the "NEW MUSIC FOR REG" Project and the second series of 12 "STUDI SONORI DA CONCERTO".
Live performance of the M° Marco Ramelli, performing his composition "Fantasia Chiaroscuro" composed and dedicated to the REG
World premiere performance of the second series of 4 studies by the guitarists-composers: Ganesh Del Vescovo, Simone Fontanelli, Nicola Jappelli, Francesco Morittu

Saturday 25 March at 7.30 pm
event not included in the entrance card – buy the ticket here: https://eventi.chitarrain.com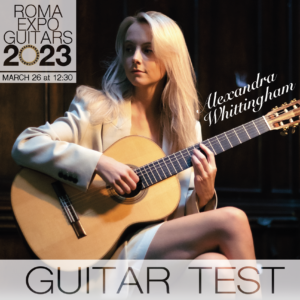 "30 Limited Edition" Guitar Test by 

Alexandra Whittingham
SUNDAY 26 MARCH AT 12:00
(event included in the entrance card – subject to availability)
Sunday 26 MaRCH at 3.30 pm
Guests: Senio Alirio Diaz, Gabriel Guillen Navarro (Joseph-Haydn-Konservatorium des Landes Burgenland) , Ahmet Kanneci (Department of Guitar at Hacettepe University State Conservatory – Ankara), Salvatore Daniele Pidone (Artistic Director Alirio Diaz Festival Sicilia-IGFAD)
(event included in the entrance card – subject to availability)
——————————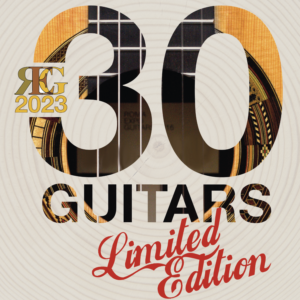 Also for the 2023 edition of the Roma Expo Guitars we propose an exciting project: the creation of 30 "Limited Edition 2023 guitars" by the the 30 exhibiting guitar makers.
More specifically, the project envisages that each individual guitar maker will make a guitar that is a totally UNIQUE, ONE-OFF INSTRUMENT in terms of its constructional and aesthetic, characteristics and, furthermore, it will bear the "REG 2023 Limited Edition" logo alongside the label.
Moreover, each guitar will have its own certificate of authenticity signed by the actual guitar maker.
The other, really significant feature will be that, precisely because of their uniqueness, these "Limited Edition" guitars, will ALL be ready to be handed over to those who are present for the day of the REG.
It is, without doubt, a unique, and not to be missed opportunity!
---
—————————–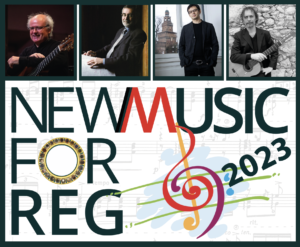 New music for REG 2023
12 Concert Studies
Second Series of 4 Studies
Guitarists-composers: Ganesh Del Vescovo (the composition will be performed by Marco De biasi), Simone Fontanelli, Nicola Jappelli, Francesco Morittu
Virtuosity often arises from conflict, from the tension between a musical idea and the instrument, between the material and the musical matter."
Luciano Berio
This tension between the musician and his instrument, as described by Berio, has always been a means of creativity, generating new compositional ideas.
In the specific case of a performer-composer, the relationship between his instrument and his musical output is intimate and visceral.
The sounds and characteristics of the instruments played by illustrious guitarists-composers have often been a source of inspiration for exploring and inventing new soundscapes.
Likewise, the expressive needs of musicians have prompted guitar makers to create and perfect instruments that are capable of creating musical ideas which were previously impossible to achieve.
Therefore, with this series of studies dedicated to REG, we want to encourage contemporary guitarists-composers to interact with specific instruments to create sound studies that explore the tension between their compositional imagination and the sound and evocative potential of Italian-made guitars.
Since its inception, Rome Expo Guitars has been a meeting point between different excellencies.
Now we wish to gather them together with the aim of encouraging encounters between composers, performers, and guitar makers.
The future road of our beloved instrument will be traced through this threefold relationship.
The first series of these studies was the result of a meeting between four Italian guitarists-composers. They had all distinguished themselves both in terms of composition and as performers; their works are already part of the repertoire of acclaimed international concert performers.
This project was conceived from their desire to create a research group formed between guitarists-composers and guitar makers. In the years to come, this project will involve eight other composers in order to create a unified work formed of 12 concert studies.
———————————
International Dealers 2023
Nine international Dealers at Roma Expo Guitars!
For the entire duration of the event seven international dealers will take part in the Expo.
From the opening hour until 3 pm of Friday (opening hours to visitors) they will have the opportunity to meet the luthiers and try their instruments in quite dedicated spaces.
In the same morning, the Dealers (together with the Professors and students of the "International Musical Accademy Project") will be able to appreciate the instruments also through a private Guitar Test without any use of amplification.
A unique opportunity for exhibitors aiming to present Italian luthery to the international market.
In alphabetical order:
————————————-
International Musical Academy Project 2023
For the third year, Roma Expo Guitars has twinned with important European Musical Institutions!
We welcome professors and students to our event in Rome where they will test the very best productions of Italian instrument craftsmen.
We selected seven teachers from seven different conservatories who shared great enthusiasm and involved their students in the project, more than 60 students.
In alphabetical order:
– Anton Bruckner Privat Universitat- Linz (Austria)
Giuseppe Feola


– Musik-Akademie der Stadt Basel (Svizzera)

Simone Fontanelli


– Mozarteum Universitat – Salisburgo (Austria)
MUK – Music and Arts Private University of Vienna
Petri Kumela


– Sibelius Academy – Helsinki (Finlandia)

Jurgen Ruck


– Hochschule für Musik Würzburg university of music (Germania)

Andreas Wangenheim


– Hochschule Luzern – Music – Lucerna (Svizzera)
———————————-
Location:

Roma Eventi – Fontana di Trevi – Piazza della Pilotta, 4 – 00187 Roma – Italia  (more info)
Agenda:
Friday from 15:00 19:30 / Saturday and Sunday from 10:00 – 19:30 (non stop)
Admission:
Admission: 15€ (mandatory membership fee), valid for the three days of Exhibition (purchased on site) with the gift of the prestigious Expo catalog.
Boys under the thirteen years membership card of € 10 / children under eight years free admission