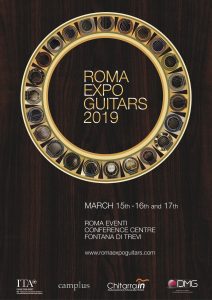 Friday, 15th – Saturday, 16th and Sunday, 17th March 2019
Roma Expo Guitars now in its VII edition!
This event, created by the Chitarra In Association, is totally dedicated to the classical guitar world and its wonderful instruments.
Our mission is to further attract international attention on the Exhibition and promote Italian guitar-making in general.
We are willing to make this event a permanent reference point, competitive and prestigious in the area of guitar-making and visible throughout the World.
Events Roma Expo Guitars 2019 (in cronological order):
Friday, March 15 at 19:30 (event not included in entrance pass)


Thu Le in concert
Maarten Vandenbemden, teacher at Stedelijke Servaisacademie – Halle (Belgio), will open the concert.
Saturday, March 16 at 15:00 (event included in entrance pass)

"The influence of Spanish guitar making in the evolution of the Italian guitar, its project and its tone."
Conference speakers the Guitar Makers Lorenzo Frignani, Mario Grimaldi, Gabriele Lodi.
The concert players Luigi Attademo, Bruno Giuffredi, Pablo Marquez will offer some performances with guitars built by the great guitar makers Antonio de Torres, Manuel Ramirez, Enrique García, Domingo Esteso, Luigi Mozzani, Pietro Gallinotti.
The guitarist Simon Roguljić from Musik und Kunst Privatuniversität der Stadt Wien, will open the conference
Saturday March 16 at 19:30 (event not included in entrance pass)


Marco Tamayo in concert
Taina Daniel Marques de Souza from Universität für Musik und darstellende Kunst Wien, will open the concert
Sunday March 17 at 12:00 (event included in entrance pass)

Lifetime Achievement Award to the great Master of world luthiery: José Romanillos
During the ceremony Antigoni Goni and Andrea Dieci will pay homage to the great Master playing on his instruments.
Sunday March 17 at 15:00 (event included in entrance pass)

Acoustic rehearsal of instruments
Public rehearsal of all guitars on display, which will be played by the famous Anabel Montesinos
the guitarsist Marie Sans from Musik-Akademie der Stadt Basel will open the rehearsal.
Why come to Rome Expo Guitars?
The best of Italian guitar makers and Companies
Best value for money
10 soundproof rehearsal rooms
Important guests
Concerts
Conferences
Awards
Comparative acoustic testing of the instruments
The top classic guitar lutherie in the heart of Rome!
Agenda: Friday, 16th from 15:00 19:30 / Saturday, 17th March & Sunday, 18th March from 10:00 – 19:30 (non stop)
Admission: 10€ (mandatory membership fee), valid for the three days of Exhibition (purchased on site) with the gift of the prestigious Expo catalog.
Boys under the thirteen years membership card of € 5 / children under eight years free admission