July 10, 2021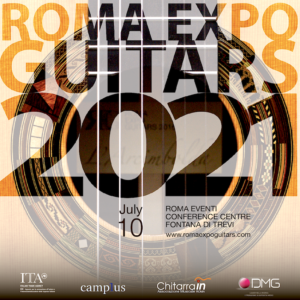 Saturday, 10th July 2021
Roma Expo Guitars now in its VIII edition!
This event, created by the Chitarra In Association, is totally dedicated to the classical guitar world and its wonderful instruments.
Our mission is to further attract international attention on the Exhibition and promote Italian guitar-making in general.
We are willing to make this event a permanent reference point, competitive and prestigious in the area of guitar-making and visible throughout the World.
The top classic guitar lutherie in the heart of Rome!
Why come to Rome Expo Guitars?
The best of Italian guitar makers and Companies
Best value for money
Comparative acoustic testing of the instruments
10 soundproof rehearsal rooms
Important guests
Concerts (for this one-day edition there are no plans)
Conferences (for this one-day edition there are no plans)
Awards (for this one-day edition there are no plans)
Location:

Roma Eventi – Fontana di Trevi – Piazza della Pilotta, 4 – 00187 Roma – Italia  (more info)
Agenda:
10:00 – 19:30 (non stop)
Admission:
15€ (mandatory membership fee)