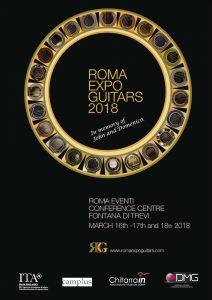 Friday, 16th – Saturday, 17th and Sunday, 18th March 2018
Roma Expo Guitars now in its VI edition!
This event, created by the Chitarra In Association, is totally dedicated to the classical guitar world and its wonderful instruments.
Our Mission
 Our mission is to further attract international attention on the Exhibition and promote Italian guitar-making in general.
We are willing to make this event a permanent reference point, competitive and prestigious in the area of guitar-making and visible throughout the World.
Events Roma Expo Guitars 2018
• Friday, March 16 at 19:30 (event not included in entrance pass – purchase from January 2018)
Expo opening evening with presentation concert – in first preview – of the double audio CD "ITALIAN EXCELLENCE" produced by CHITARRA IN featuring the recordings made by nine of the major Italian concert musicians with the guitars of the twenty-seven Italian Master luthiers present at Expo 2018.
Our nine concert musicians will alternate on stage for a unique concert of its kind, which has no precedent in the history of Italian classical guitar.
The following are the names of the protagonists in alphabetical order:
Luigi Attademo – Massimo delle Cese – Andrea De Vitis – Marco Del Greco – Fernando Lepri Bruno Giuffredi – Christian Saggese – Flavio Sala – Giulio Tampalini
"A Parisian in the heart of Europe"
• Saturday, March 17 at 15:00 (event included in entrance pass)
Conference with maestro lutist Andrea Tacchi on the legendary French guitar maker Robert Bouchet;
For the occasion there will be one of maestro Bouchet's original instruments (No. 117 of 1967) which can be listened to in the capable hands of Maestros Andrea Pace and Cristiano Poli Cappelli.
Aniello Desiderio in concert
• Saturday March 17 at 19:30 (event not included in entrancepass – purchase from January 2018)
Recital by the famous Italian virtuoso Aniello Desiderio
Lifetime Achievement Award to Maestro Angelo Gilardino
• Sunday March 18 at 12:00 (event included in entrance pass)
CHITARRA IN will honour Angelo Gilardino, composer, scholar and editor, with the Lifetime Achievement Award; during the ceremony, the italian guitarist Christian Saggese, will give the world premier of the Sonata "Letters to Fryderyk" composed by Angleo Gilardino and will also perform two important composition of classic guitar repertoire.
Acoustic rehearsal of instruments
• Sunday March 18 at 15:30 (event included in entrance pass)
Public rehearsal of all guitars on display, which will be played by one of the greatest Italian guitarists, Adriano Del Sal.
Why come to Rome Expo Guitars?
The best of Italian guitar makers and Companies
Best value for money
10 soundproof rehearsal rooms
Important guests
Concerts
Conferences
Awards
Comparative acoustic testing of the instruments
The top classic guitar lutherie in the heart of Rome!
Agenda: Friday, 16th from 15:00 19:30 / Saturday, 17th March & Sunday, 18th March from 10:00 – 19:30 (non stop)
Admission: 10€ (mandatory membership fee), valid for the three days of Exhibition (purchased on site) with the gift of the prestigious Expo catalog.
Boys under the thirteen years membership card of € 5 / children under eight years free admission